Information for hotels
Inspire the Dutch, Belgian and German citytrippers to stay at your hotel
Information for hotels, apartments and other accommodations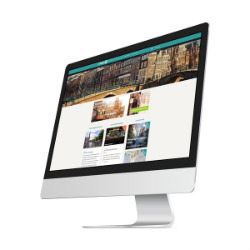 City trips are more popular than ever with consumers in Germany. Statistics has shown that Germans made an estimated 122 million short trips (of one to three nights) in 2014! (Eurostat).

This proves that investing in our company is a good idea. On our platform (website and app) we inspire our visitors with high quality information on what they can do during a city break and where they should go next. And that for over 14 years now! Unique is our online pdf city guide concept: visitors can compose their own city guide by selecting the items they like.

Via inspiring content integrations, advertisements, banners and social media campaigns we reach a wide group of tourists. Consumer approval is borne out by the 80,000 unique visitors that visit the website every month, the 83,500 subscribers of the newsletter, the 45,000 users of the app and the 8,500 fans we have on social media (measured July 2018).

Who are our visitors?
CityZapper is the ideal website to bring your product and services to the specific attention of this adventurous group of frequent travelers with a mid-level or higher income. Our target group is between the 25 and 60 years old and has special interest in: travel (cities), lifestyle, art, culture, shopping and culinary aspects.

Our hotel advertorials inspire our visitors for a stay at your hotel. The integration in the content, small selection of exclusive hotels and personal approach makes sure your hotel is presented in the best way possible. The excellent position of CityZapper in search engine results proves that we can give you a valuable edge in getting new customers.

The hotel advertorial comprises:
One full year presence in our online city guides and in our city guide apps.
Extensive article about your hotel, written by our editors. This way, the advertorial is naturally integrated in the content.
Description about the location and map.
Selection of appealing photo's.
Information about services and facilities, types of rooms and prices.
Contact details and logo of your hotel.
Request form, where visitors can request more information or a booking. This request form will be send directly to the hotel.
Promotion via a teaser block.
Appearance in the category 'Hotels' of the city guide, which has a prominent position.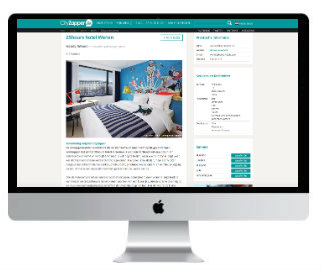 € 250 for one full year of publicity CityZapper does not ask for commission


Don't wait longer to let your hotel shine on CityZapper. Reach the Dutch, Belgian and German city trippers in the best way possible with maximum results. If you would like to include your hotel on our website and apps, please download the booking form.

Feel free to contact us for more information at +31 (0) 20 3207688 or marketing@cityzapper.com. We would love to discuss how we can set up a creative promotion for your accommodation.