5 fun hotspots in Stockholm's Södermalm district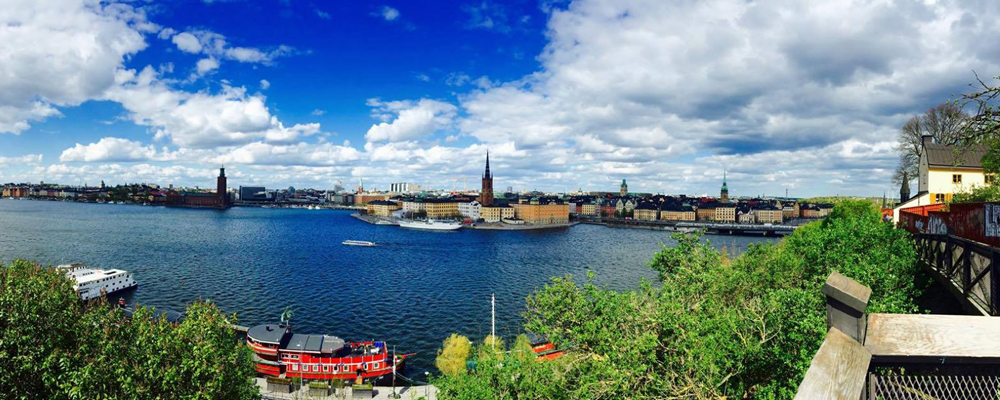 A visit to Stockholm is not complete without visiting the old town of Gamla Stan, the Royal Palace and the Vasa Museum. Seeing those sights is fun but Södermalm, the city's southern island, is actually the place to be. This is where you'll see, taste, feel and experience the best Stockholm has to offer.
Stood atop Södermalm's steep cliffs you'll have the most fantastic view of the entire city. What's more, this is where you'll find Sweden's capital's best hotspots. It is with good reason that the locals enjoy living here. What's more, Södermalm is like a magnet attracting big numbers of fashionistas, design junkies and food lovers. I drew up a list of ten über cool places to visit during my city trip in May 2015. I'll share the first five with you here.
Lunch: Café Muggen
If you walk straight on from Gamla Stan to Södermalm you'll soon find yourself in Södermalm's main street: Götgatan. This is also where you'll find the first hotspot: Muggen, which means 'mug' in Swedish. The coffee is great indeed but what really tickled my fancy were the sandwiches and juices. You order and pay at the counter (tip: go for a pulled pork sandwich), pick up your cutlery, water, bread, hummus and olive tapenade from the bar and find a seat. While you're enjoying your pre-lunch, the kitchen staff will prepare your sandwich which is quite possibly the best you've ever had. Trust me.
Götgatan 24


Shopping: In The Mood
After lunch you continue down Götgatan. Turn left at Tjärhovsgatan. This is where you'll come across a furniture and interior design store with the appropriate name In The Mood. IKEA might be Swedish but you won't find much of the 'milked' furniture here. The furniture giant has become a thing of the past here as everyone enjoys unique items from trendy stores. This is something that makes me very happy, especially when I enter In The Mood. How you'd love to buy the entire collection to recreate In The Mood in your own home! Unfortunately, this will be rather tricky travelling with hand luggage only… It is however an ideal spot to find inspiration and advice that simply makes you very happy.
Renstiernas gata 14

Fika: Eat with Jonna
Shopping works up an appetite so do like the Swedes do and enjoy a Fika. This is an integral part of Swedish life. The idea is that you enjoy an extensive coffee break with some local delicacies. I love it so I joined in the fun at Eat Jonna. This café can be found only a stone's throw away from In The Mood. It is as if this colourful café has been transported to earth straight from a land where rainbows, ponies, unicorns and flamingos are the norm. Order a latte, a cappuccino or something else that takes your fancy and choose from the local delicacies on offer in the showcase. During your coffee break make sure to admire the special decor and enjoy the kitsch flower pots, the flamingos, the quotes and the sketches on the wall and the cushions on the chairs. If you're a fan of Eat with Jonna then why not take home some of the products on offer? Liquorice flavoured popcorn for instance.
Folkungagatan 95

Shopping: Cocktail Delux
Can't get enough of colours? Then leisurely amble into the SoFo district and visit Cocktail Delux. Until you visited Stockholm you probably thought that Sweden was all about minimalistic design but as with Eat with Jonna, Cocktail Delux proves that quite the opposite is true. You'll come across the most kitsch knick-knacks and gadgets here. You secretly wonder what you would actually do with everything that is on offer at Cocktail Delux but those coloured piggy banks, pleasantly perfumed bars of soap and old fashioned pendant lamps would look ever so nice in your home… In any case, you leave feeling very happy and cheerful as Cocktail Delux's items and colours simply put you in a very good mood. And if you didn't find anything to your own liking then you'll certainly find a nice present for a friend.
Bondegatan 34

Dinner: Hjördis
After an entertaining day in Södermalm you can round off the day by enjoying a delicious dinner at one of its many restaurants. I went to Hjördis at the edge of the SoFo-district and I wasn't disappointed. This informal restaurant with a homey setting is a hit with the locals and rightly so. The fine decor together with the refined and classic Swedish dishes with a Mediterranean touch offer good value for money. The menu changes frequently and always offers a good combination of meat, seafood and vegetarian dishes.
Great service by Hjördis' enthusiastic staff staff make that you will never want for anything. Don't forget to take a closer look at the lamps above the bar as they are made from wine glasses! How awesome is that?
Åsögatan 171

We hope we got you into the mood to go and discover Södermalm! With our tips you're ready to go and you'll be able to find the best hotspots in no-time!
Text and image: Bianca van der Ham