A cocktail in London? Don't miss these places!
It's general knowledge that London is a shopper's paradise but the United Kingdom's capital is also held in high regard when it comes to great cocktails. Spread across London you'll find numerous quaint bars that serve exquisite quality drinks. CityZapper has eight suggestions for you.
Barrio Central
From a Wonky Donkey to a Hand Grenade Hibal: if you're looking for cocktails with a slap of Latin attitude then look no further than Barrio Central. This great is bar located in Poland Street in London's extravagant Soho district. Many cocktails here are made with typical distilled exotic beverages such as tequila and cachaça (Brazilian rum) and are mixed with tropical fruits such as lime, pineapple, mango and pomegranate. Happy hour is called Amigo hour here when cocktails are served for just five pounds, so there's no excuse not to stop by!
6 Poland Street
Covent Garden Cocktail Club
Just do your thing and you'll be fine seems to be the golden rule at the Covent Garden Cocktail Club! This bar is praised for its laidback atmosphere and down to earth approach. Customers are free to make their own cocktails and if fancy cocktails aren't your thing then you're more than welcome to enjoy shots in the basement bar which is a blend of British gentlemen's club and prohibition-era New York City. A visit to the Covent Garden Cocktail Club is something special which is reflected in the fact that it's a members-only club. Not a member, no entrance. But fear not, membership can be applied for via their website for free.
6-7 Great Newport Street
Nordic Bar
You've got South-America at Barrio Central and you've got Scandinavia at the Nordic Bar. The Nordic Bar, which can be found in London's Fitzrovia district, introduces you to drinks that are characteristic of the Nordic countries. Take the 'Ski Breeze' for example, a drink where Finnish cranberry juice is mixed with vodka, ice and a dash of orange juice. Or a 'Sex on the Snow', a variation on the well-known 'Sex on the Beach' cocktail. The design of the Nordic Bar also reflects its roots as it resembles your average mountain hut in one of the Scandinavian countries.
25 Newman Street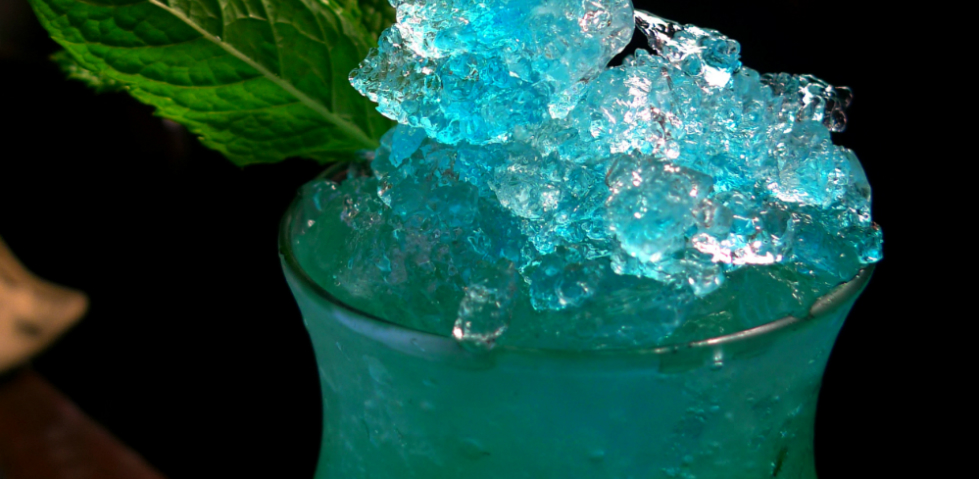 (Photo of a cocktail at the Nordic Bar)
Tonic & Remedy
A bar that is simply not be missed: Tonic & Remedy. Why shouldn't you miss it? Because the bar is situated in a rather peculiar looking triangular shaped building in City Road, Hoxton. Tonic & Remedy is part of the M Hotel but once inside it feels nothing like a hotel bar. High up in the sky you'll find a warm atmosphere where you'll be surprised by apothecary-inspired cocktails. The apothecary part is also reflected in the menu as all mixtures are categorised as 'Elixirs', 'Potions' and 'Relievers'.
151 City Road
London Grind
As you're leaving Tonic & Remedy, you're not too far from the London Grind. It's worth it as this espresso bar, cocktail bar and restaurant is located next to London Bridge in the heart of London. Find the best seat in the house and choose from a list of exquisite drinks such as the Espresso Martini which was named one of the best cocktails in all of London by the Evening Standard newspaper. The London Grind is also the place to be for a luscious gin cocktail. In addition, every gin-based drink is paired with a bespoke garnish.
2 London Bridge
The Luggage Room
Be classy and enjoy an evening out at the Luggage Room at Grosvenor Square in Mayfair. This bar is described as intimate and chic and its setting resembles that of a fine cocktail bar in the roaring twenties. The Luggage Room features rich leather sofas, small tables, period curiosities and a private minibar. Picture it as a bar you would expect to find on board Titanic. The drinks contribute to the 1920's theme as they are served in authentic period glassware. Reservations are recommended.
Grosvenor Square (Look for the black door next to the Marriott Hotel)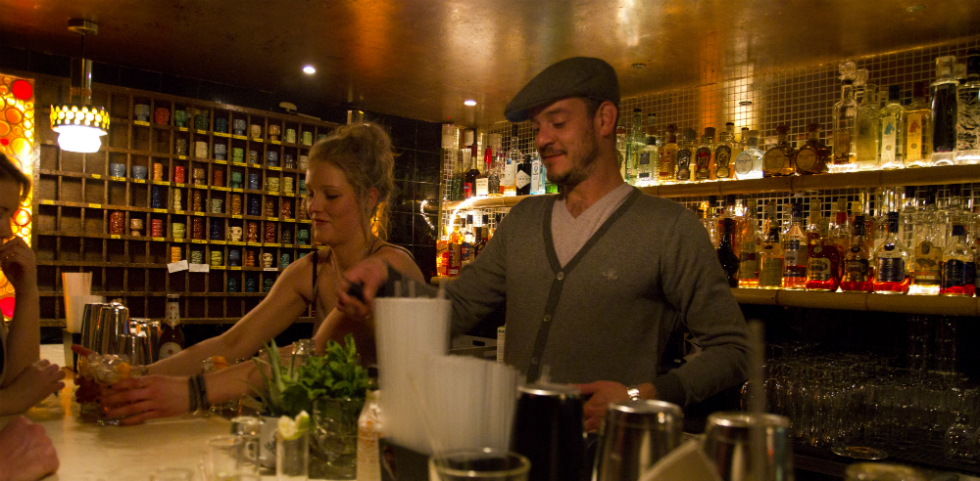 (Picture of the bar in Trailer Happiness)
Trailer Happiness
Say Notting Hill and you'll think of that film starring Hugh Grant and Julia Roberts. But Notting Hill also means Trailer Happiness where you'll find cocktails that focus on rum. It is reminiscent of Barrio Central in Soho but at Trailer Happiness you also expect to find William Thacker's small bookstore. The name Happiness is probably derived from the fact that music evenings are often organised here. Just imagine, you first order the 'Big Kahuna', followed by a 'Polynesian Princess' and afterwards you dance the night away to reggae, jazz or other funky music. That'll cheer you up, won't it?
177 Portobello Road
Dirty Martini Bar
Shaken, not stirred. That's all you have to say to describe 007's drink. At the recently opened Dirty Martini Bar in Islington's Upper Street you'll finally get the chance to use this famous catchphrase. Martinis are prepared and poured in dedicated martini glasses with the utmost care. The long and narrow hall where you'll be seated is characteristic and can be described as hip and traditional at the same time. Beautiful works of art grace the walls of the Dirty Martini Bar. You'll be in luck when you visit during happy hour as you'll get two martinis for the price of one! Sip away!
74 Upper Street
Which bar has your preference? Let us know by leaving a comment. For more information about London why not check out our own special city guide!
Text: Patrick Stevens
Translation: Rodger Poppeliers
Picture: v.b.n.b.: Slowdrops (Thinkstock) Ewan-M (Flickr) & dan@silvers.net (Flickr)