Discover the best of Budapest
Enter Budapest in your computer's search engine and the most beautiful and picturesque photos will appear on your screen. the Hungarian Parliament Building, the Chain Bridge and the Danube river: everyone that has ever visited Budapest will recognise them instantly. In the space of four days, editor Lynn discovered the best and most beautiful sights the capital of Hungary has to offer. To say that she was surprised is an understatement!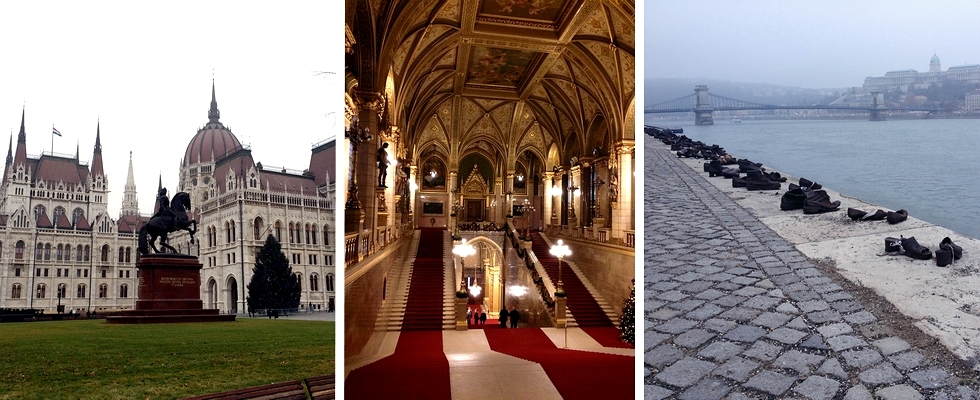 The heart of the city: The Danube
Around the Danube you'll find many beautiful places of interest that should be on your bucket list such as the Hungarian Parliament Building which can be found on many postcards. And rightly so as the detailed façade of the building makes it a true icon. A guided tour takes you around the most beautiful rooms, including the Assembly Hall of the House of Representatives. Walking along the Danube you'll notice the Liberty Statue in the distance on top of Géllert Hill. While making your way in the direction of Géllert Hill you'll pass CipÅ'k a Dunaparton, which means"'Shoes on the Danube". This special monument remembers the Jews that were shot and thrown into the river during the Second World War. It is a very moving tribute to those that perished here.
Lunch at the most beautiful café in the world
After a good walk – all of Budapest's main sights are within easy reach of each other – it is time for lunch. The Central Market Hall is a fun place to taste local Hungarian delicacies such as the Kolbice: sausages, herbs and sauce in a cone made out of freshly baked bread. Not only does it look great, it tastes great as well! The most beautiful café in the world, the New York Café, extends a warm welcome to all of its visitors. Live piano music, an elegant interior and delicious food make it more than deserving of the title.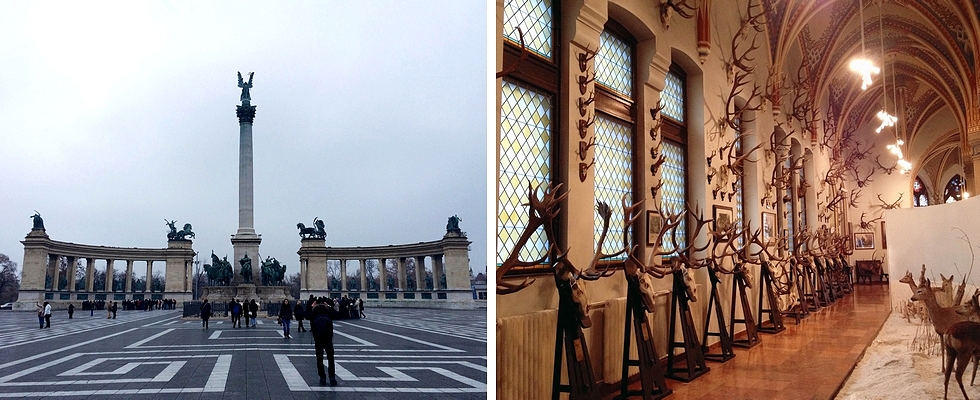 Discover Heroes' Square and its surrounding area
The North part of the city is also a must when visiting Budapest. En route you'll pass the ornate Hungarian State Opera House which looks too inviting not to visit, even if only to take in its breathtakingly beautiful main entrance! Continue your journey by metro and exit at Heroes' Square (HÅ'sök tere). Not only will you come across one of the biggest and most stunning thermal baths here, you'll also find the Magyar Mezogazdasagi Museum here which is hidden away in a castle. This agricultural museum's collection includes beautiful period rooms filled with deer antlers. Too magnificent to miss!
Fine dining and cheap toasting
Now that you're in the city's North why not enjoy some fine cuisine at Gundel? When waiters arrive carrying silver cloches with amazing dishes underneath, when crêpes are flamed right at your very table and when live classical music is being played I wouldn't dress too casual (note to myself). At the end of a highly satisfactory day in Budapest glasses need to be raised. I did so at Spiler, a cozy cocktail bar in the trendy Gozsdu Udvar area which is brimming with restaurants, pubs and bars.
To conclude my city trip I bought a kürtÅ'skalács to go: a sweet roll on a stick – the ideal snack for my trip home. It's only after having seen Budapest with your very own eyes that you'll understand why everyone is full of praise about this beautiful city. In all fairness: it truly is a jewel of a city!
Pictures: Lynn Zomer and Trang Nguyen Mai