From kayaking to culture: this is Stockholm
The 'Capital of Scandinavia', where you can enjoy nature at its best, where you get to discover Swedish culture and where shoppers find their shoppers' paradise. Welcome to Stockholm! From kayaking down the river to modern art museums to lovely little markets in the city centre: The Swedish capital has it all.
1. Hornstulls Marknad
True shopping aficionados won't be disappointed at Hornstulls Marknad. Every Sunday sees countless stalls selling vintage clothing, antique accessories and furniture to both locals and visitors alike. Its central location in the borough of Södermalm makes it an ideal Sunday outdoor activity. Stockholmers show up in huge numbers to enjoy hours of strolling along the market's many stalls. Hornstulls Marknad is held from the first weekend of May until the last weekend of September.
2. Kayaking
The best way to discover Stockholm and its skärgård (archipelago) is by taking to the water, passing underneath bridges and over rivers. If you're in for an active, tourist itinerary then you should definitely rent a kayak. An expert guide will show you the ropes when it comes to kayaking techniques. The tour leads past Stockholm's iconic city hall and spots favourite with the locals such as Hornsberg Strand, northwest of Kungsholmen.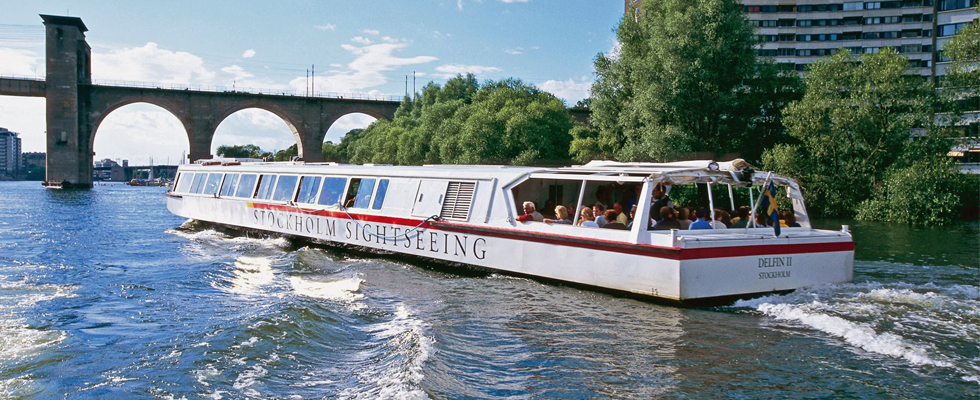 3. Under the Bridges of Stockholm Tour
This two-hour boat-trip passes no less then fifteen bridges in Stockholm as well as the locks that connect Lake Mälaren to the Baltic Sea. The route lets you fully enjoy and appreciate local architecture and invites you to take at least a thousand pictures of colourful Gamla Stan (Stockholm's old town) and the postcard-perfect island of Djurgården with its magnificent forrest.
4. Rosendal's Garden
Enjoy a picnic in one of the themed gardens, have lunch in a former greenhouse or buy delicious freshly baked rolls at the bakery: Rosendal's Garden will introduce you to pure organic horticulture. Beautiful flowers are also sold here and while you're here, why not enrol in one of the many courses on offer here such as gardening classes, cooking classes and even arts and crafts classes. Rosendal's Garden is well-known for its apple tree orchard, its vineyard and for its rose garden that features over a hundred different and often rare species of roses.
5. Modern Art
Stockholm is bursting at the seams when it comes to modern art museums. First stop: Färgfabriken, located in an old paint and soap factory dating from 1902. This exhibition space offers a stage to experimental art and architecture and also offers lectures and workshops. Next, you should visit Marabouparken, a museum named after the Marabou chocolate factory which opened its doors here in 1916. The former cacao lab is now an exhibition space filled with modern art by both Swedish and international artists. The third stop on our route is the Museum of Modern Art and Architecture. The lantern-lit galleries are home to a permanent collection of both Swedish and international modern art, including impressive works by Picasso.
These five tips will guarantee that you'll get the most out of your city break!
Text: Lynn Zomer
Translation: Rodger Poppeliers
Images: Hornstulls Marknad, Strömma.se (photographer: Gomer Swahn)