Ghent: an enchanting destination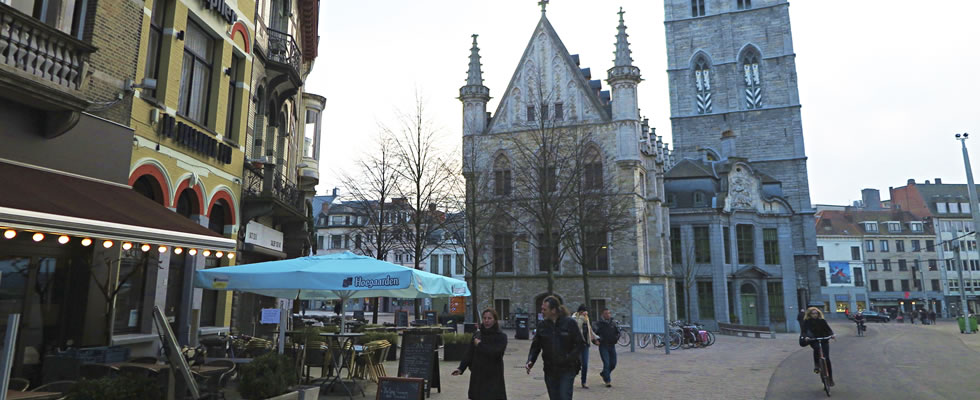 Picturesque squares and impressive cathedrals dominate Ghent's enchanting street scene, making it one of Belgium's most popular destinations for a city break. I travelled to Ghent together with CityZapper editor Berry and we returned home with a bag full of new ideas, inspiration and hotspots. The result? A Ghent city guide that is completely up-to-date!
Of course you can choose to travel to Ghent by car but what to do if you don't own a car? Exactly: then you travel in comfort by train! Berry and I set off from Amsterdam's Central Station with NS International (Dutch Railways' international rail operator) at 10:30am. We took the intercity to Antwerp where we changed trains and got on a local Belgian train headed for Gent Sint-Pieters (Ghent-Saint-Peter's). Before long we arrived in Ghent's bustling city centre after having travelled a mere 2.5 hours. A fun, short ride by vintage tram later we arrived at our hotel, the Sandton Grand Hotel Reylof, our royal residence for the weekend.  
Impressive row of spires
The weather wasn't on our side during our visit but this didn't stop us from heading out to discover this great city. The Sandton Grand Hotel Reylof has an ideal location in Ghent's historic centre which is known for its many sights. The city's impressive row of cathedrals and churches and their spires can be taken in from 'Sint-Michielsbrug' (Saint Michael's Bridge). The guild houses of 'Korenlei and Graslei', 'Gravensteen Castle', 'St. Niklaaskerk' (Saint Nicholas' Church), the Belfort (Belfry of Ghent), St. Baafskathedraal (Saint Bavo's Cathedral) and 'St. Michielskerk' (Saint Michael's Church), all of them can be seen from Saint Michael's Bridge. We decided against climbing one of the bell towers since foggy weather meant that the view would be very limited. Instead, we opted to visit hotspots and sights such as the 'Vrijdagsmarkt' (Friday Market) and 'Dulle Griet' (Dull Gret or Mad Meg), a medieval supergun dating from the first half of the 15th century which was constructed to stop the Spanish from invading the city.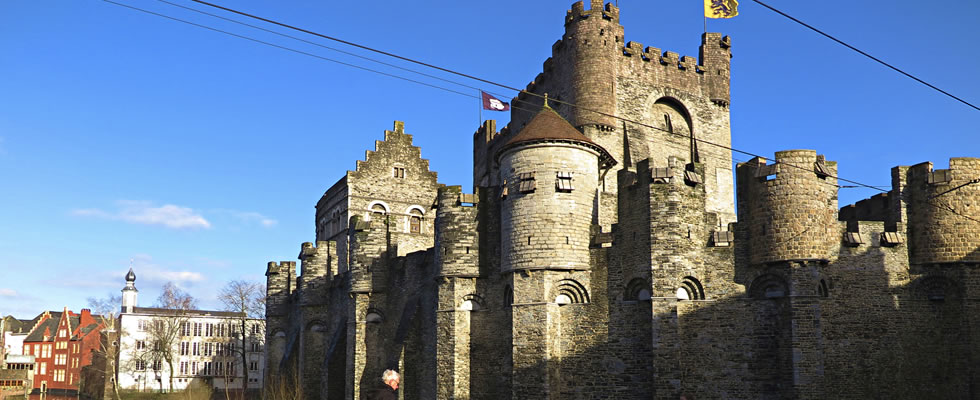 Hidden gem
We continued our stroll around the historic city centre by paying a visit to the 'Groot Vleeshuis' (Great Butcher's Hall), one of Ghent's hidden gems. Literally hidden inside a unique building, you'll find countless stalls selling East Flemish regional products. The 'Groot Vleeshuis' is also an ideal place to enjoy breakfast, lunch or a perfect cup of coffee. The name of the building refers to its medieval past when it served as an indoor meat-market. Selling meat in a central location meant that sales could be monitored by the city's authorities. Every medieval city had one or more butchers' halls and this particular one used to be Ghent's best-known. Close to the 'Groot Vleeshuis' you'll find 'Café 't Galgenhuis' (Café Gallowhouse) which is the smallest café in all of Ghent. Meanwhile, the sun was slowly but surely making an appearance which meant that a spot in the sun outside the café was immediately taken by other visitors to the café.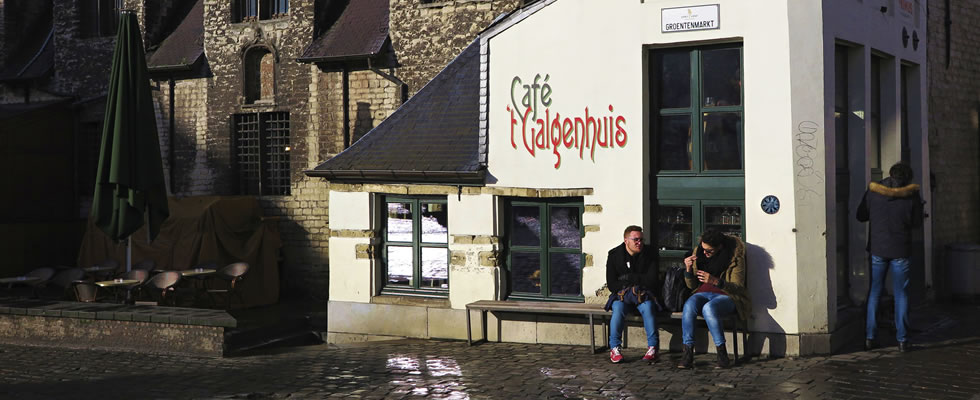 Culture in the city
Avid museum enthusiasts never have to travel far to take in some culture as many of Ghent's museums are located right in the city centre. The 'Huis van Alijn' (Alijn's House) sends you on a voyage through time to find out how the inhabitants of Ghent used to live while 'School van Toen' (Yesteryear's School) gives its visitors an insight in the way schools used to be run many moons ago. If modern art is more your thing than fret not: visit MIAT, SMAK, STAM or the Designmuseum. The latter is located in one of Ghent's most appealing streets, the Jan Breydelstraat which is also perfectly suited for a day of shopping since both antique stores and brocante can be found here. Chain stores and popular brands can be found in Veldstraat, vintage stores and small boutiques are situated at Lange Munt.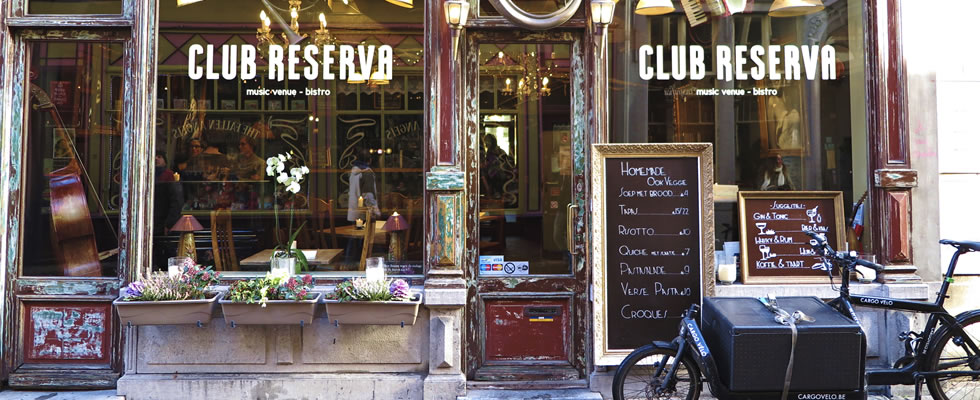 The War of the Noses
From Lange Munt it is just a short walk to the Graslei and Korenlei where, weather permitting, you can relax at one of the charming outdoor cafés whilst enjoying a Belgian waffle or a Belgian beer. If you happen to visit Ghent on a dreary afternoon then you should head over to Mrs. Beanzz, a pleasant coffee bar offering a great view of the River Leie. Those of you that want to try a typical Gent delicacy should head for the stalls of the Gent Noses, located between 'Groentemarkt' (Vegetable Market) and Hogepoort. Locals have told us that these stallholders used to be fierce rivals and even got into fights with each other about who sold the best Noses before eventually making peace with each other. This purple-coloured, cone-shaped Belgian candy (which resembles a nose) has a relatively hard exterior and a soft centre. Gent Noses can only be bought in Ghent so make sure to buy some to take home with you!                                                                                          
From the poles to the equator
We decided to have dinner at Gillis, a restaurant specialising in meat-dishes located opposite our hotel. Although the restaurant had only opened a few months prior to our visit, Gillis proved to be very popular with both locals and tourists alike. This popularity might be caused in part by the special entrecotes listed on the menu, aged to perfection. This restaurant is the place to dine for the meat lovers among you! Hipsters are heading en masse for Mosquito Coast, a Belgian Café with a worldly character on the other side of town. The menu lists predominantly beverages from around the world as well as exotic dishes originating from all around the world, from the poles to the equator. Make sure you stick around for a delicious cocktail before letting your head hit the pillow in your comfy hotel bed, drifting off to sleep, thinking about what else this great city has in store for you…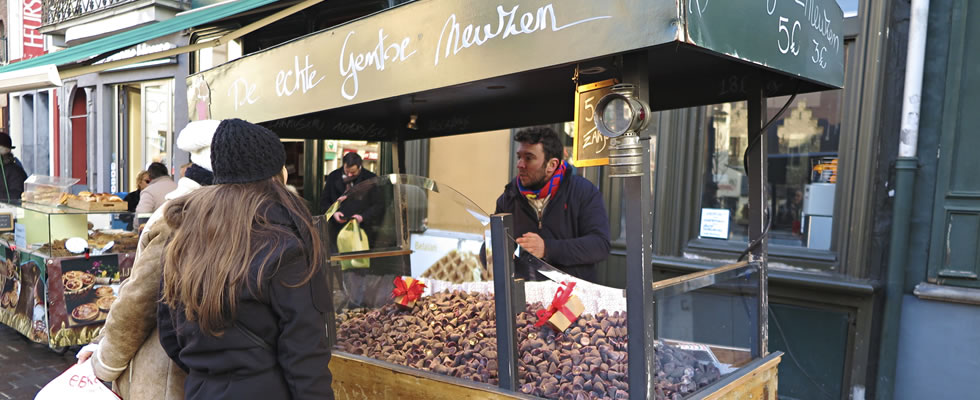 Want to know more about Ghent? Read all there is to know about this enchanting Belgian city in our updated city guide. Ready to explore the city for yourself? NS International single fares start from €41.                                           
Text and images: Vicky de la Cotera Manrique
Translation: Rodger Poppeliers