New York: the locals' favorites
In the beginning of March, CityZapper editor Vicky and photographer Martijn left for New York – a trip of dreams for everyone that loves city trips. With their backpacks full of places that had to be checked out, they eventually let locals show them around New York. The result: even better and even more unknown places that no-one should miss.
I was already super excited weeks before my trip to New York as I was finally given the chance to discover the Big Apple (courtesy of KLM's world deal weeks!) – a city that had been on my bucket list for years. Being the neurotic person that I am, I had already drawn up a list of various places and hotspots that I just had to go and see. According to my calculations, we'd have half an hour per item on my list before we'd have to dash off to the next hotspot using New York's subway.
The Monster
We stayed at an Airbnb in Hamilton Heights, Harlem. This is a borough filled with beautiful brownstone apartments. When I showed our host Brendan my list all he could do was laugh uncontrollably. Sure, there was nothing wrong with my research but if we really wanted to get under New York's skin then we'd have to trust him and go with his tips for New York. The first morning he took us to Manhattanville, a coffee bar located on an abandoned road in Harlem. A warm welcome by Manhattanville's staff awaited us upon entering and without asking, 'The Monster' was put in front of us to accompany our coffee; a giant sort of muffin that we just had to try. And indeed: this mashup creation of apple crumble and chocolate croissant tasted divine! I nearly begged them to give me the recipe but, unfortunately, The Monster will always remain one of the best kept secrets of Manhattanville. And before I forget: there's another branch located in Brooklyn!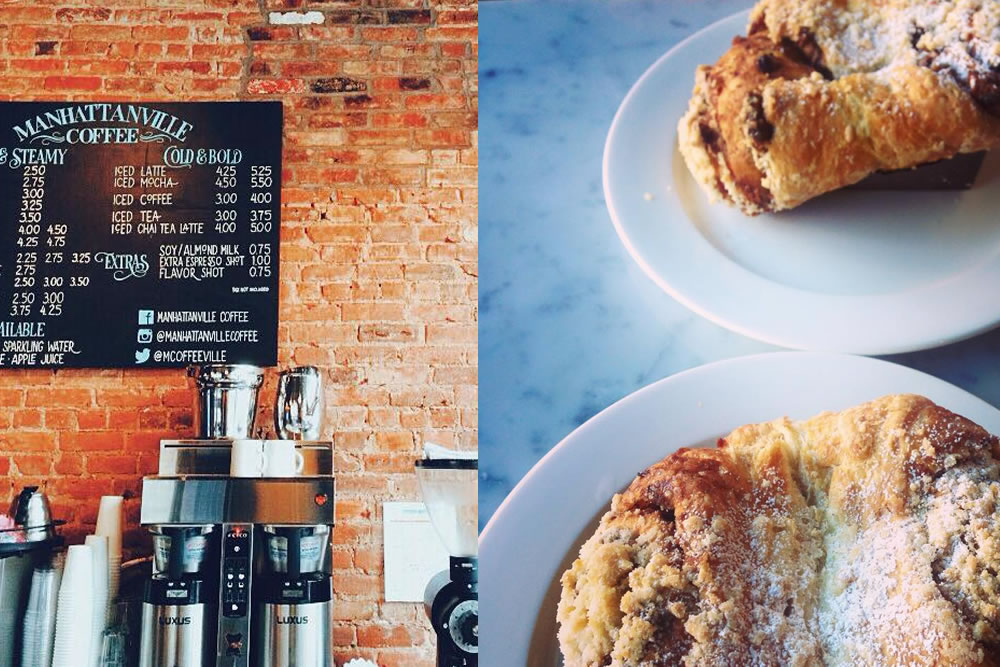 Choose a viewpoint
Those of you that will only spend a few days in New York will have to choose between The Empire State Building and Top of the Rock to get a view from the top. We'd advise you to go for option number two. At the suggestion of Brendan, we visited Top of the Rock during the day and The Empire State Building at night. Although both viewpoints offer you a mesmerising view of the Big Apple, our preference lies with Top of the Rock as the lift ride up is much shorter and you get to choose how far you want to go up. There are no glass walls that will obstruct your view, instead Top of the Rock features an open roof which gives you a truly spectacular view of the city.
And the view includes Central Park and the Empire State Building which are both essential icons if you want to capture the perfect photo of New York's fabulous skyline!
Hummus Place
There's no place on earth where going for brunch and having lunch are as hip as in New York. The city is bursting at the seams with many cool lunchrooms and trendy coffee bars. One that Brendan told us not to miss was Hummus Place, an Israeli restaurant that has its focus on just one thing: hummus. The restaurant is open every day from eleven until eleven and you'll find that at any hour of the day people will come here to enjoy the best hummus they have ever tasted. Go for the Hummus Platter, this way you'll be able to sample a little bit of everything. Next, choose the sort of bread that you want to accompany your hummus, perhaps one or two side dishes, sit back, relax and enjoy the hummus!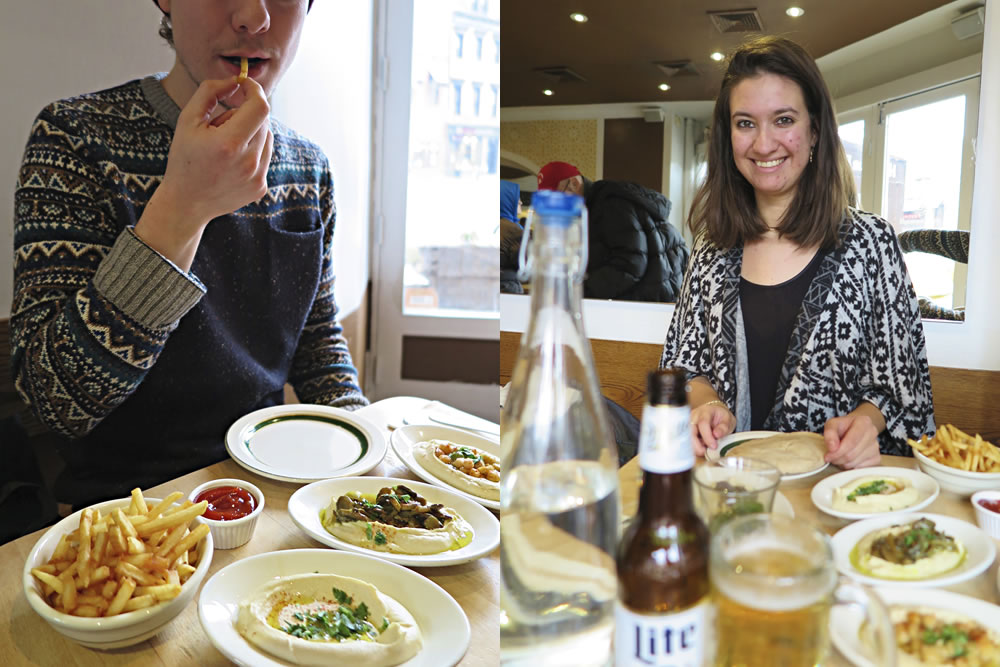 Steffie's tip
Our programme would not be complete without a shopping adventure since shopping is often one of the main reasons (where women are concerned) to visit New York. After visiting the stores on Fifth Avenue, and at the suggestion of Steffie, we headed to St. Mark's Place. Steffie hails from Amsterdam, fell in love while visiting New York two years ago and now travels between the two cities which she both calls home. At the moment she is employed as a correspondent by German television network RTL. St. Mark's Place is located in the East Village, close to Soho, and consists of a long street brimming with colourful and alternative shops, boutiques and tattoo shops. You'll find special items here that you won't find elsewhere and together with the locals you'll try new food trends such as the ramen burger and pulled noodles.
Tony's tips
Since we're staying in Harlem, a visit to a true Harlem soul food restaurant should not be left out of our itinerary. Tony, a local we had met earlier in Brooklyn, told us to go and eat at La Bodega 47. A small, cosy but very hip little cocktail bar that happens to serve fabulous Cuban soul food. Take away the Manhattan hipster crowd and you're guaranteed to have a fantastic evening. After dinner and to round off the evening, Tony takes us to The Blue Note, the world famous jazz bar in the West Village where many jazz legends have set foot on stage. A table reservation will set you back $35 but it's better to reserve a spot at the bar ($20) for which you'll have to queue up about an hour in advance.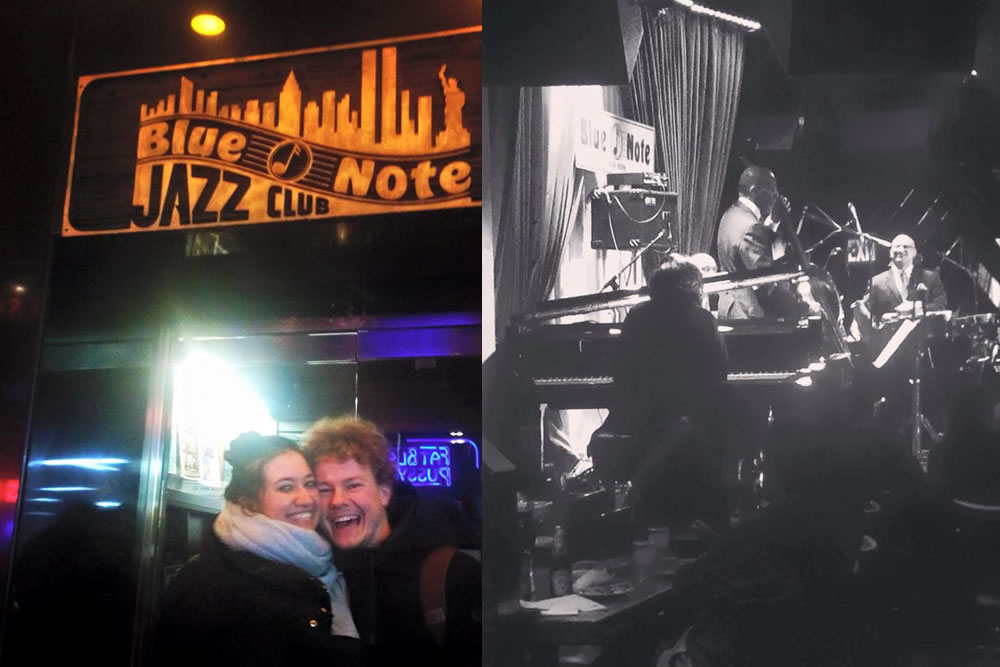 CityZapper's tip
Okay, I'll admit that we didn't skip places such as Times Square, Central Park and the 9/11 Memorial. But because New York is bursting at the seams when it comes to sights and museums it is impossible to visit them all. What's more, it'll cost you too much time and money to join all the queues but both can be avoided by purchasing a New York CityPASS. The CityPASS consists of a booklet with coupons that'll gain you entry to, among others, The Empire State Building, Top of the Rock, the Guggenheim Museum and the Metropolitan Museum of Art. If you decide to purchase the CityPASS you'll save 41% on entrance fees and you'll get to skip all the queues.
Text and image: Vicky de la Cotera Manrique