Rotterdam is the place to visit in 2016
In September 2015, I travelled to Rotterdam after having been invited by Rotterdam Info, the city's promotor of tourism, leisure and city living. My goal was to find inspiration for our city guide. Not only did I see Rotterdam as a fabulous destination for a city trip, the port city was also declared one of the 10 top cities in the world to visit in 2016 by Lonely Planet's Best in Travel! An excellent and well deserved title which is why we're sharing our five favourite addresses in the second city with you!
Rotterdam owes its place on the much desired list to the city's futuristic architecture, inspiring city initiatives (such as RiF010) and the ever growing supply of museums, cultural institutions, restaurants, bars and nightlife venues.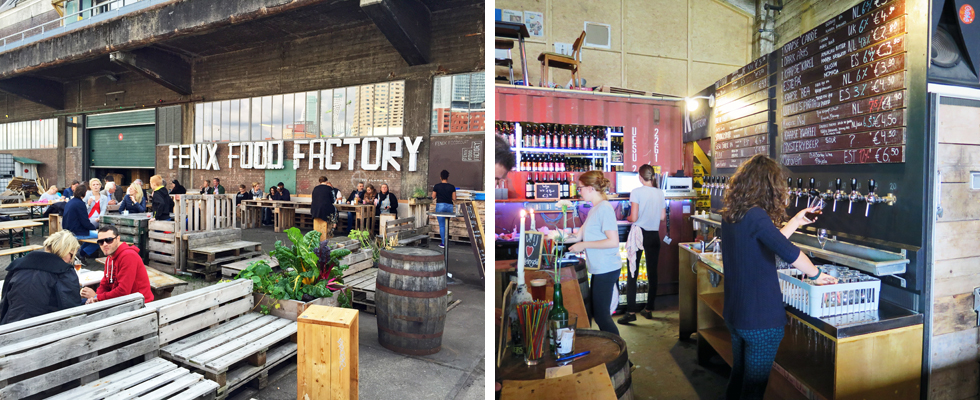 Fenix Food Factory
A visit to the impressive Markthal (Market hall) is indispensable during a city trip to Rotterdam. Its great architecture is to be admired and its stall holders will take you on a culinary journey around the world. However, it is highly recommended to plan a journey off the beaten track to the Katendrecht peninsula as well. This is where you'll find the industrial Fenix Food Factory. Its old warehouses have been transformed into a foodies' paradise. Various entrepreneurs from the greater Rotterdam area have joined forces in a venue where the industrial atmosphere of yesteryear can still be felt. It is this raw atmosphere which makes the Fenix Food Factory a wonderful place to enjoy a drink and a bite to eat. Order Booij Kaasmakers (Booij Cheesemakers) delicious cheese board or enjoy a fresh draught beer from Rotterdamse Kaapse Brouwers, Rotterdam's newest city brewery. Find a spot at one of the picnic tables inside or settle outside in the sun on one of the many pallets.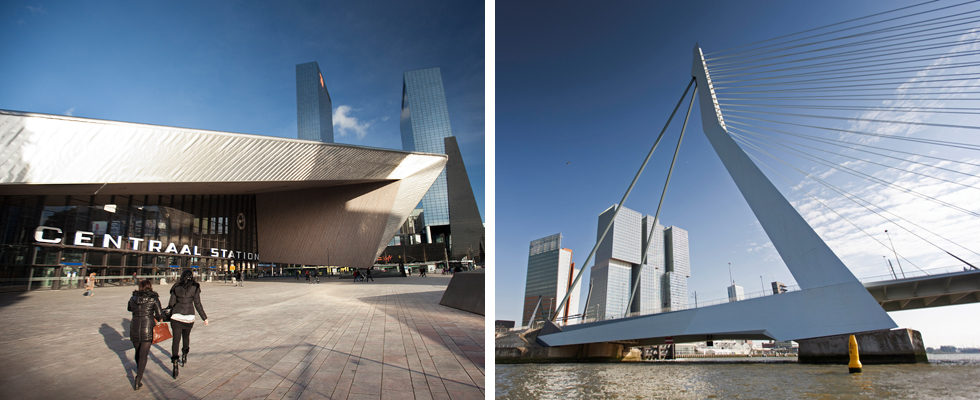 Architectonic highlights during Rondje Rotterdam
Lonely Planet praised the city's futuristic architecture but Rotterdam's cityscape has more to offer than skyscrapers and innovative designs alone. Next to all the new buildings you'll also find some historic gems. Rondje Rotterdam (Around Rotterdam) was created for those that want to explore the port city's architecture. This walk (or bicycle tour) will guide you around the city's iconic architecture and take you to more than fifty locations for which Rotterdam is known. The Erasmus Bridge, the Great or St. Lawrence Church and the Euromast are sights you'll come across during Rondje Rotterdam. The cubic houses, the new central railway station and the Kop van Zuid, Rotterdam's iconic south bank, are also part of this walk. The latter is well known due to its high rise buildings designed by world renowned architects such as Rem Koolhaas and Renzo Piano and is unique owing to the fact that it consists of a melange of new and historic buildings such as Hotel New York. Rondje Rotterdam covers approximately ten kilometres (6.2 miles) and takes about half a day to complete. You can collect a map of this tour at Rotterdam's Tourist Information Centre at 114 Coolsingel (garden of the ornate Schielandshuis) or at its annex at Rotterdam's central railway station.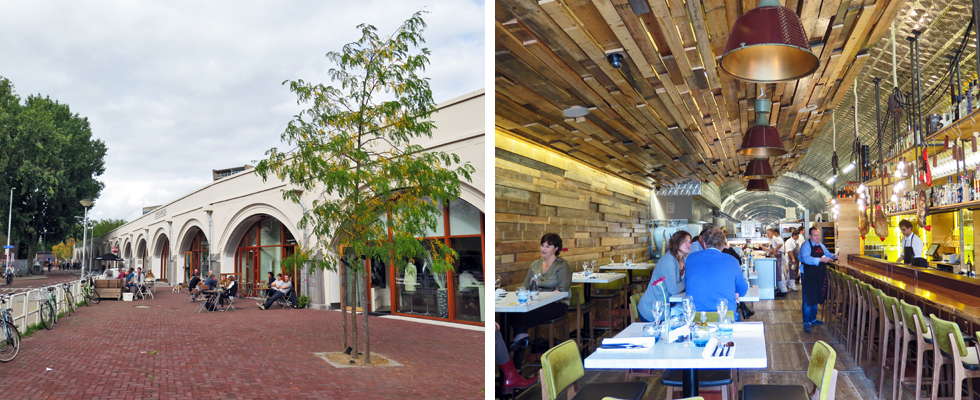 Hofbogen
An oasis of calm in the midst of the city centre: that's what the Hofbogen is. In times gone by, trains sped from here to The Hague and back again. Back in the day this wasn't a very appealing neighbourhood. These days rattling trains have made way for a pleasant buzz emanating from the shops and cafés which can be found at the arches. Every arch of the disused train viaduct houses a hip coffee bar, a trendy design shop or a happening restaurant which makes the Hofbogen a unique part of Rotterdam where industrial heritage has found a new destination. Browse the goods at North Sea Design, go for a coffee at Lokaal, dance to swinging music at BIRD or pull up a chair at FG Food Labs for an exquisite meal by François Geurds.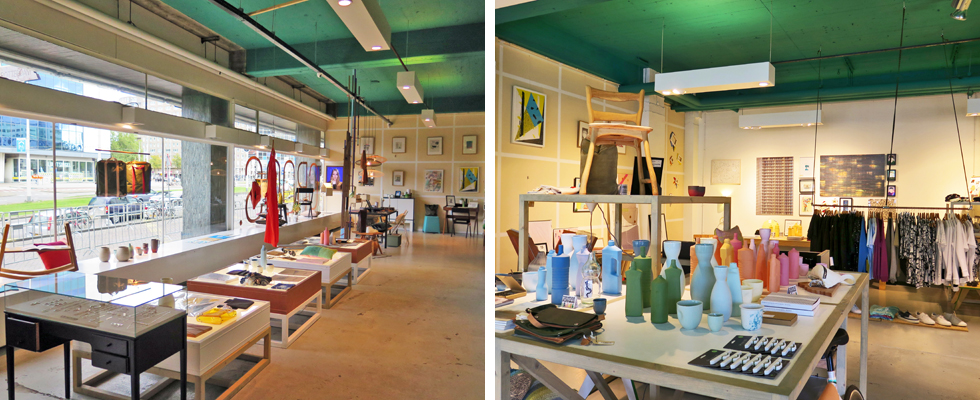 GROOS
Groos, a forgotten Dutch word for 'proud' but also the name of a concept store in Rotterdam's city centre which has the ambition to become THE platform for quality products from the Rotterdam area. They have done a pretty good job so far as within its walls you'll find a wide range of goods from Rotterdam of which the city's inhabitants can be justifiably proud (GROOS). This is where you'll meet Rotterdam's design, music, fashion and art talents and where you'll develop a better understanding of Rotterdam culture. You think that design and art are expensive? Not at GROOS. On average their products are competitively priced so if it's their jewellery, clothes, vases or art you're after then there's a good chance that they'll be within your budget. This will make you the proud owner of a unique and truly Rotterdam collector's item!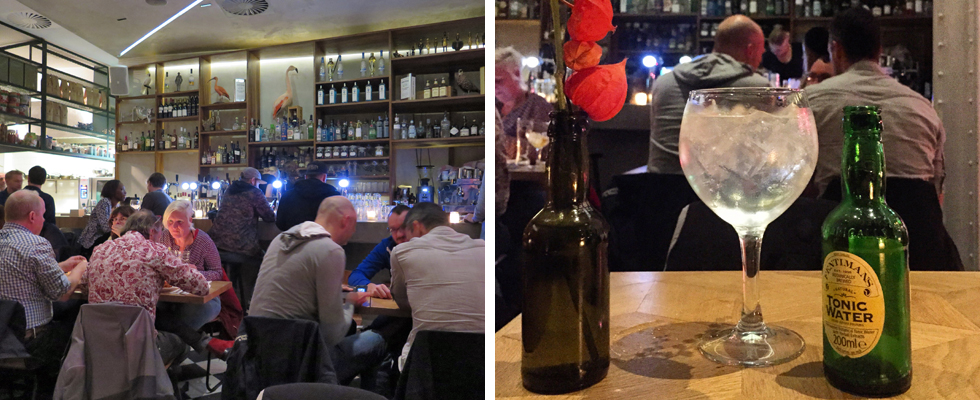 Ballroom
We do love a good gin and tonic from time to time. In Rotterdam you'll have come to the right place at Ballroom in the Witte de With area. Early in the evening you can pull up a chair for a good portion of 'gehaktballen', the Dutch equivalent of meatballs. As the evening progresses, the balls make way for G&Ts. 52 different gins on the menu mean that you can try a different one every Saturday evening of the year! A big plus is the fact that Ballroom offers a selection of different tonics as well which make that a good combination is guaranteed. Appearances also count which is why Ballroom's interior has been decorated according to the latest trends which include concrete accents, wooden tables and a stuffed flamingo. Ballroom is not to be missed during a night out in Rotterdam!
Which hotspot in Rotterdam is your favourite?
Text: Bianca van der Ham
Translation: Rodger Poppeliers
Photo: Ossip van Duivenbode (Rotterdam Image Bank), Claire Droppert (Rotterdam Image Bank).